Hey y'all, I know it's been awhile. Not sure if anyone even follows this anymore. I found a recipe for Artichoke Chicken on allrecipes. Needless to say, it was pretty dang good, and if I didn't screw up, it's foolproof:)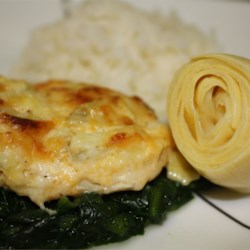 i totally borrowed this photo from the recipe's author. blogger's being janky and won't upload my photo:( It did look like hers in the pic above.
Ingredients
Directions
Preheat oven to 375 degrees F (190 degrees C).

In a medium bowl, mix together the artichoke hearts, Parmesan cheese, mayonnaise, and garlic pepper. Place chicken in a greased baking dish, and cover evenly with artichoke mixture.

Bake, uncovered, for 30 minutes in the preheated oven, or until chicken is no longer pink in the center and juices run clear.